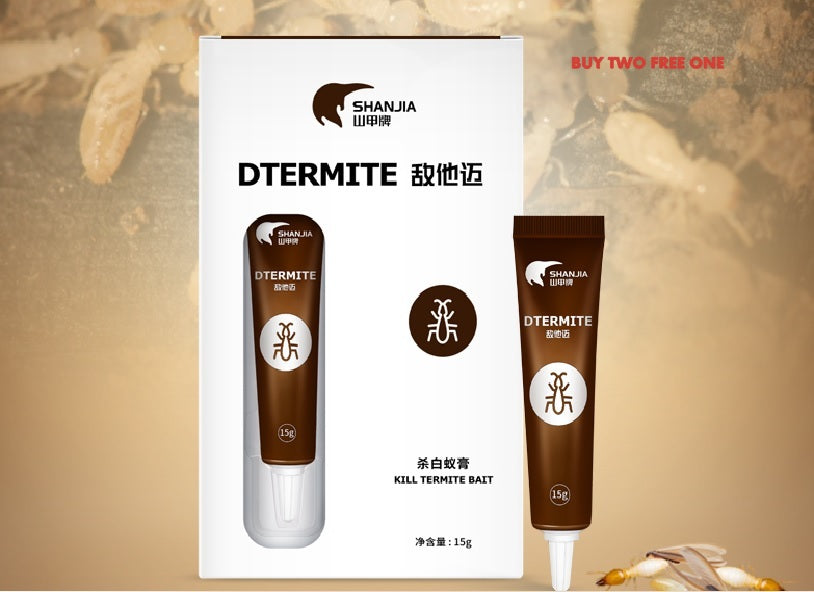 DTermite Termites BAIT Gel -Eliminate Termite Colony
RM29.00 MYR RM49.00 MYR
DTermite Termite Bait Gel is an excellent professional termites gel for killing termites  colony. Termite Gel is completely undetectable by termites. Once termites touch it, it spread the termicide by contact until it eliminate the entire colony.
How to apply?
Apply to termites roadway/mud. For best effect, you may open a small hole on termites roadway and squeeze the gel into the hole.  Use the sticker to cover the mud which you apply gel.
**Do not remove the whole roadway. You need to let termites touch & eat the gel inside the roadway/mud.
How Long it eliminate termites?
25 DEGREE CELCIUS  AND BELOW—7 days after termites eat/touch the gel.

25 DEGREE CELCIUS AND ABOVE—10 ~21 days after termites  eat/touch the gel. 
Product Specification
Product Name : DTERMITE Termites BAIT Gel
Physical Form : Gel/Liquid 
Weight : 15g 
Ingredient : 0.84% Germany-domino technology active-ingredient 
Target : Termites
Application: Indoor/Outdoor - Best for location, which is hard to use termites powder.
Package Include:
Termites GEL 15g - 1 unit
 Q&A:
1) How many bottle needed?
You may estimate one colony with one bottle. Depend on size of roadway/mud.
PRODUCT SELECTION TABLE
| | | | | | | |
| --- | --- | --- | --- | --- | --- | --- |
|   | TERMITE DIY BOX  | Termites Powder Fipronil  | Termites Gel  | Termites Control Liquid 100ml | Termites Control Liquid 500ml | Advanced Bait Station  |
| Termite Infection  | Minor infection, 1 roadway (width <1mm) | Moderate Infection  | Moderate Infection  | Moderate to Serious Infection  | Moderate to Serious Infection  | Serious Infection/Protection  |
| Location  | Indoor | Outdoor and Indoor  | Plaster Ceiling and Wall  | Indoor and Outdoor - All spots  | Indoor and Outdoor - All spots | Outdoor  |
| Treatment Period | 1 months  | 1 week  | 1-2 weeks  | 1 week | 1 week  | 1 month |
| Strength | Easy to use and apply in indoor. Safe | Easy to apply on mud/roadway | Best for wall and sticky | Easy and high effectiveness | Easy and high effectiveness | Easy and high effectiveness |
| Weakness  | Longer treatment period  | Not suitable for plaster ceilling  | Need to squeeze into roadway | NA | NA | For outdoor only |
Related Products