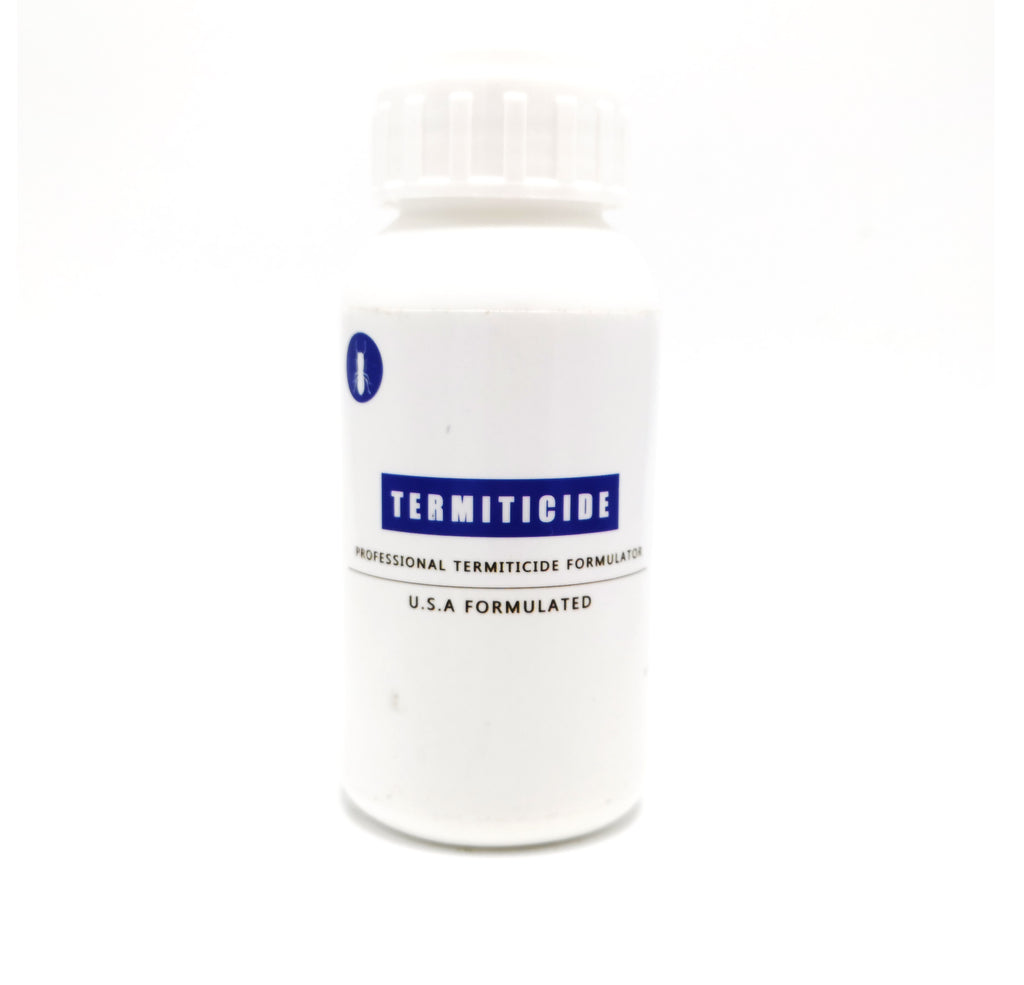 Termites Control Liquid - Bifenthrin Suspension - 100ml
RM299.00 MYR RM399.00 MYR
Termites Control Liquid is an excellent professional termite control product for killing termites and protecting your home from future infestations. In addition to its superior protection against termites, Termites Control Liquid is an excellent do it yourself pest control product to have on hand as it also kills ant colonies, as well as many other insect pests. Termites Control Liquid will protect your home and eliminate almost any termite problem in less than 10 days. In addition, when used as an in-ground barrier treatment, Termites Control Luquid will protect your home or business for **10 years. Once termites touch it they contact, ingest and spread the termiticide until it eliminates the entire colony. Termites Control Liquid controls all types of termites including subterranean, formosan, and drywood termites.
Termites Control Liquid is also one of the best ant control products that money can buy. An exterior above ground spray one foot up and one foot out is all you need to knock out ant colonies and carpenter ants trying to invade your home!
LONGER-LASTING PROTECTION
Bifethrin, is a molecule that has been proven effective in controlling termites.
It has longer lasting protection against subterranean termites by providing lethal barrier preventing termites from entering the structure. *Based on trials and laboratory tests.
VALUE FOR MONEY, LOW APPLICATION COST
Higher dilution rate because of its highly potent active ingredient.
100ml will give you a total of 1000 sqf coverage.
ODORLESS, NON-OILY-  MORE CONVENIENT TO USE
Termites Control Liquid is in odorless, water-based formulation making it so convenient to use.
LESS HAZARDOUS: FRIENDLY TO APPLICATOR, FRIENDLY TO THE ENVIRONMENT
Termites Control Liquid is a pyrethoid insecticide which is less hazardous to the applicator and environment when used properly. Safe to use indoor. Free from skin sensivity. 
Content : Bifethrin 4.96%
Target Pests: Subterranean Termites, Drywood Termites, Dampwood Termites, Carpenter Ants, other Wood-Infesting Insects.
For use in : In and around basements, attics, crawl spaces, hallow block foundations or voids, around wells or cisterns, or direct application to damaged wood.
HOW TO USE:
For Termite Control:  Termites Control Liquid must be mixed with water (1:100 Ratio - 10 ml Termite Control Liquid mixed with 1 litre FILTERED water) and use with SPRAYER. 
HOW MANY BOTTLES NEEDED?
Double Storey House -  2 Bottles.
Single Storey House - 1 Bottles.
Banglo House - 3-4 Bottles. 
Apartment/Condominium - 1 Bottles 
IMPORTANT:
1)      Please wash your hand, change your clothes after use.
2)      Do not expose to eye.
3)      Do not drink. Get the medical consultation immediately if consume accidentally.
4)      Do not mix with alkaline chemical. Mix with water only.
Note: 
**It doesn't mean we provide 10 years warranty for protection. From research data, those treated surface should able to protect from termites infection up to 10 years based on lab experiment. 
 Term & Conditions:
1) There's no warranty of protection. We do not offer any pest control services with warranty cost included. 
PRODUCT SELECTION TABLE
| | | | | | | |
| --- | --- | --- | --- | --- | --- | --- |
|   | TERMITE DIY BOX  | Termites Powder Fipronil  | Termites Gel  | Termites Control Liquid 500/100ml | Ecopest Biosupreme Termite Liquid 100ml | Advanced Bait Station  |
| Termite Infection  | Minor infection, 1 roadway (width <1mm) | Moderate Infection  | Moderate Infection  | Moderate to Serious Infestion  | Serious termites infestion.  | Serious Infection/Protection  |
| Location  | Indoor | Outdoor and Indoor  | Plaster Ceiling and Wall  | Indoor and Outdoor - All spots  | Indoor and Outdoor - All spots | Outdoor  |
| Treatment Period | 1 months  | 1 week  | 1-2 weeks  | 1 week | 2 week  | 1 month |
| Strength | Easy to use and apply in indoor. Safe | Easy to apply on mud/roadway | Best for wall and sticky | Easy and high effectiveness | Easy ,Convenience and high effectiveness | Easy and high effectiveness |
| Weakness  | Longer treatment period  | Not suitable for plaster ceilling  | Need to squeeze into roadway | NA | NA | For outdoor only |
Related Products