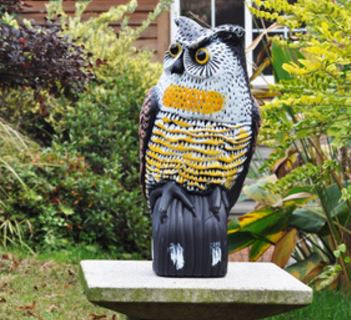 Garden Defense Owl - Predator Decoy Bird Scare
RM75.00 MYR RM99.00 MYR
Owl mimics the look of a predator to protect fruit and vegetables by scaring off garden pests, such as birds, squirrels, mice and other destructive garden visitors

Move occasionally for best results

Scare away garden pests

Lightweight and multifunctional

Use year after year

Chemical-free pest control
Product Description
Owl mimics the look of a predator to protect fruit and vegetables by scaring off garden pests, such as birds, squirrels, mice and other destructive garden visitors. Move occasionally for best results.
The realistic Garden Defense Owl is a chemical free, environmentally way to control pests. Scare away birds and vermin with this great horned owl look-alike--just hang, mount, or set the Owl in or near your garden. And as attractive as it is useful, the Garden Defense Owl makes a great a patio accent, garden feature, or lawn ornament for any home.
Looks Just Like the Real Thing
Designed to look exactly like a great horned owl, the Garden Defense Owl features large, yellow eyes, a tilted head, ear tufts, and intricate hand-painted details on the body. Also, the Owl stands upright on a thick base, giving it a little extra height.
Scare Away Garden Pests
The Garden Defense Owl mimics the look of a predator bird to protect your fruits, vegetables, and flowers. You can use the Owl year after year to frighten away birds, squirrels, rabbits, rodents, and other destructive pests.
Because the Owl uses no chemicals, it is a safe method of pest control that can be used for years to come.
Easy to Install
There are several easy options available for installing the Great Defense Owl. The Owl features an eyelet on the top of its head, so you can hang it from a tree or under the roofline of your house. Mounting the Owl on a pole is also easy with the molded-in pilot hole on the bottom of the base. Alternatively, you can fill the base with sand and place the Owl between the rows in your vegetable patch or on your patio.
What's in the Box
Garden Defense Owl.
Related Products