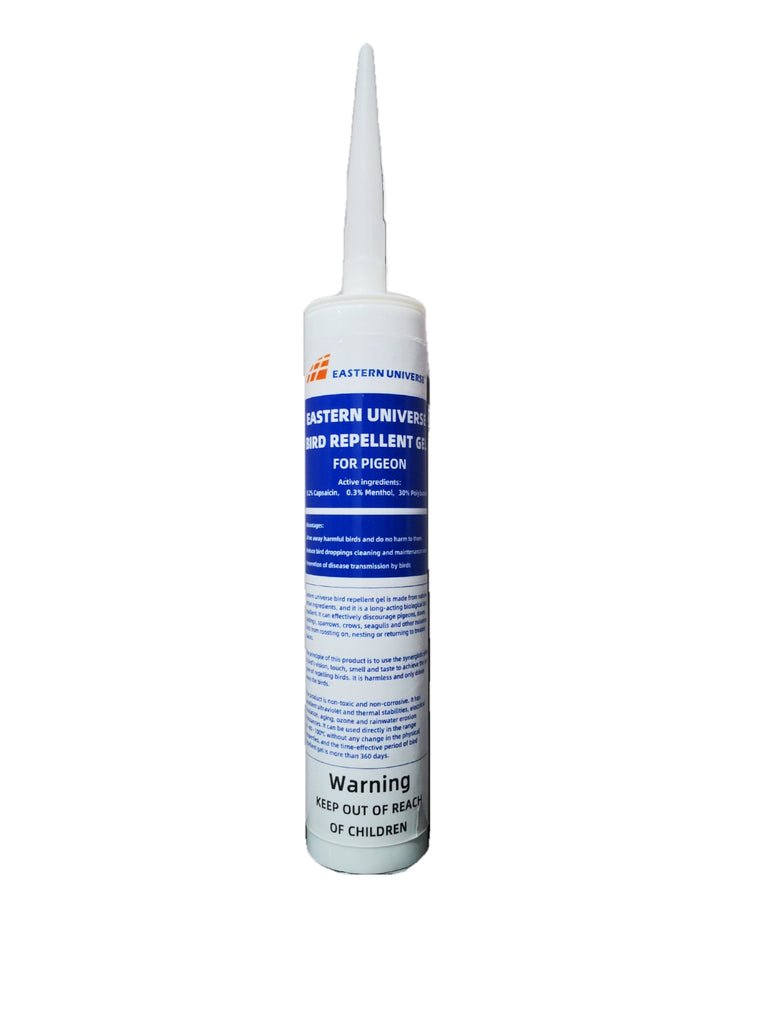 Eastern Universal Bird Repellent Gel for Pigeon
RM59.00 MYR RM99.00 MYR
Description
Eatern Universal (TM) Bird Repellent Gel is a safe bird repellent solution for ledges, window sills, gutters and beams to keep birds, especially Pigeonfrom roosting or landing. With non-toxic formula, it makes a surface sticky and uncomfortable to birds. Can be used in any weather, indoors or outdoors. The gel remains tacky and effective for up to 12 months
Non-toxic
Easy to apply
Discourages bird roosting activity
Long lasting solution - Lasts for about a year on average
Ordorless
Easy to apply with a standard silicone gun.
Use for pigeons, starlings or sparrows.
Specification
| | |
| --- | --- |
|  Spec Name | Description |
| Dimension | 21.5cm(H) x 5cm(W) x 5cm (D) |
| Weight | 250g |
| Active Ingredient | Polybutene |
| Pest Type | Birds, Pigeons |
| Indoor/Outdoor Usage | Indoor and Outdoor |
| Features | Sticky |
| Safe for Pets | Yes |
| Country of Origin | Malaysia |
Location for use :
Any surface birds can land on.
Effective coverage 10 linear feet per tube
Directions
Clean building surface (remove droppings, dust, etc) and dry it before applying bird gel.

Cut tip of tube off with cutter. Install the nozzle on tip of tube.

Load and lock the tube into silicone gun, apply in strips in a wave-like fashion in a 1/4 inch bead for small birds, 3/8 inch for medium birds, and 1/2 inch for larger birds. For wider areas, more than one bead may be necessary.
Cleaning 
Wipe the area with detergent, water and a rag.
Wholesale/Bulk Order
We accept direct bulk order. For dealership in each state, please contact us. 
Related Products