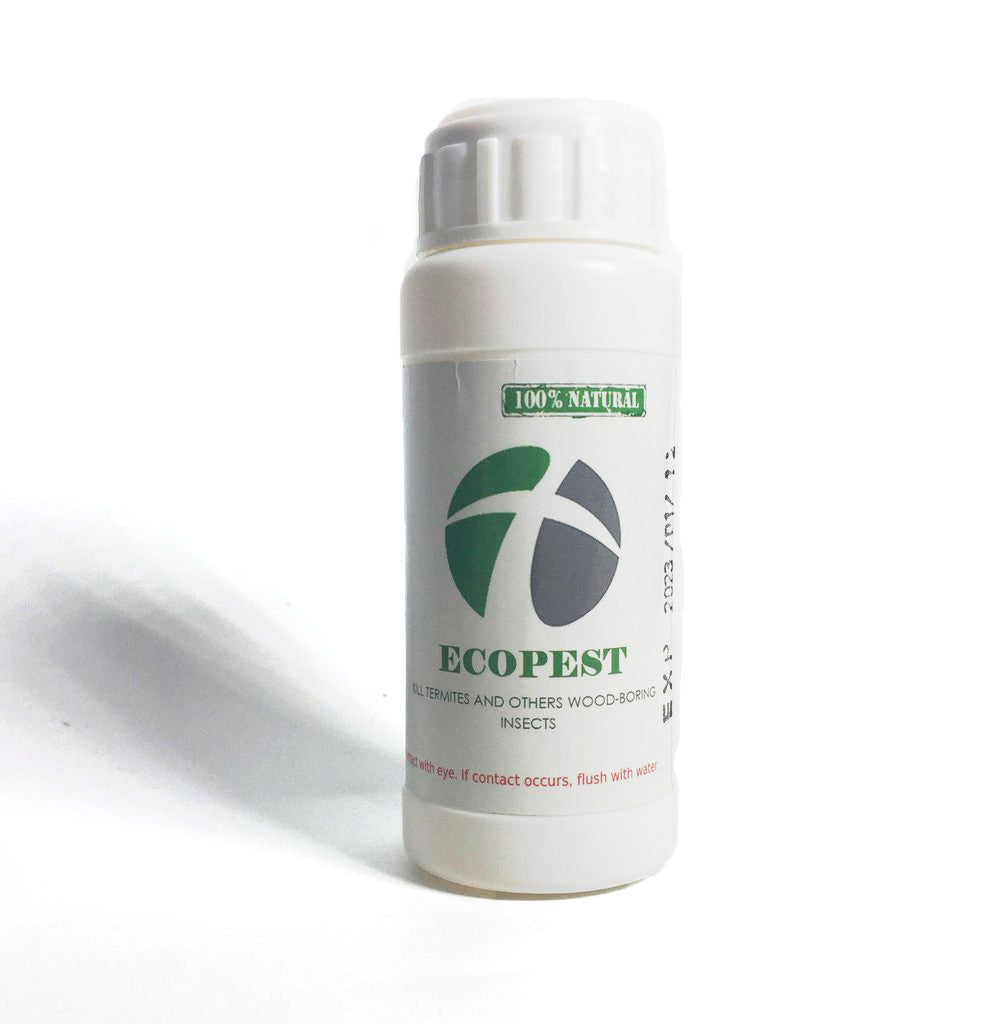 EcoPest Natural Termiticide - Natural Termite Treatment
RM49.00 MYR RM89.00 MYR
Tested No Toxic & Certified by National Poison Centre ( Certification No : PRN2018/517)

Kills drywood termites, subterranean Formosan termites, powder post beetles, carpenter bees, carpenter ants, and other wood destroying pests

Penetrates deep into the wood – even painted, stained, and varnished wood

Long lasting protection – One Time Termite Treatment

Use indoors and outdoors – non staining, non toxic. Safe for the Family and Pets

100% All Natural Ingredients
Description
Wood riddled with the damage caused by termites, powder post beetles, and carpenter ants and bees is becoming more and more common. Most homes are built with wood that is vulnerable to termite infestation. Many wooden structures that took weeks to design and months to build become nothing more than sawdust in the hourglass of time when left untreated. Exterminating termites often requires special safety measures to avoid poisoning people and pets and the chemicals used are harmful to the environment. There is a better way to do it yourself and eliminate termites for the long haul. By using Eastern Red Cedar Oil and other natural ingredients, an alternative termite control product has been developed from the wisdom of Nature. EcoPest Cedar Oil Termiticide kills drywood termites, subterranean Formosan termites, powder post beetles, carpenter bees, carpenter ants, and other wood boring pests and then continues to work as a repellant and wood protector by lowering water content. It provides long lasting termite control, leaving a pleasant Cedar scent.
How it Works
When termites and other wood pests are exposed to Cedar Oil Termiticide the aroma of the cedar oil overwhelms their breathing system and triggers a suicide response—the spiracles (breathing pores) close and cannot re-open. The cedar oil dissolves the insect eggs and larvae, eliminating the next generation, while the aroma of cedar disrupts pheromone signals and creates a barrier of entry to newly arriving pests. You can do your own home, because you do not need a special license. Cedar Termiticide is more effective than other natural insecticides, and is longer lasting.
Wood Moisture Content
Trees circulate water continually from root to leaf. When sawed into usable lumber, some moisture remains in the wood. A drying period seasons the wood and allows some of this moisture to evaporate, yet some water remains in the wood. Wood pest insects, mold, and bacteria have a threshold level of moisture that must be present in the wood for the organism to live. Lowering the moisture content of wood protects it from damage caused by termites, mold and bacteria.
How to Use It
1. Apply to all sides where possible, paying particular attention to cuts and ends of pieces. 2. Apply three coats directly to all unfinished, stained, varnished or painted surfaces using a compression sprayer, air or airless paint gun, brush or roller. It is easily applied using a low pressure or garden sprayer, and it may be used indoors or outdoors. Ensure adequate ventilation when using in closed areas. Drying is best accomplished in the heat of the day. 3. If there's termites roadway, please mix with 1ml water : 1ml cedar oil natural termiticide and then spray on termites roadway/mud.
CAUTION: AVOID CONTACT WITH EYES
if contact occurs, flush with water for at least 15
minutes. KEEP OUT OF THE REACH OF CHILDREN. In case of ingestion consult a physician.

EcoPest Natural Cedar Oil Termiticide is formulated from all natural food grade ingredients that are generally recognized as safe (GRAS).

Natural Ingredient:
10% Pure Eastern Red Cedar Oil and 90% food grade proprietary active-ingredient. There
are no artificial fragrances, colorants or preservatives and no animal by-products or
animal testing.
Eastern Red Cedar Oil is extracted from a species of juniper found in North America east
of the Great Plains called Juniperus virginiana. The oil is distilled from the trunk and
branches, and is considered safe by the USA FDA as a food additive. This oil kills bacteria,
fungi, and wood eating insects.
Related Products