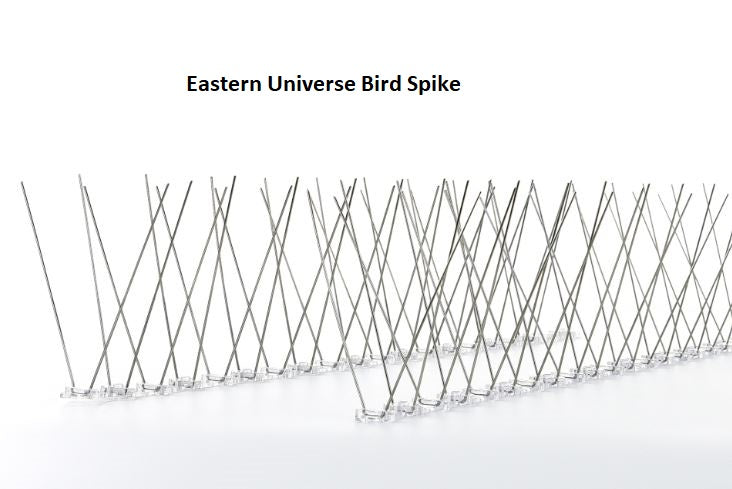 Stainless Steel Bird Spike - STOP BIRDS and Pigeon FROM PERCHING AND LANDING
RM10.99 MYR RM19.99 MYR
Description
Physical barrier solution is the most effective bird control way to keep birds off from your premise. It eliminate the ability to land and perch in your premise. It can install easily with nail-free adhesive, nails, screws and ties. It's a real solution to prevent birds from landing. Long lasting, zero maintenance bird control solution.
Advantages
BEST-SELLING Stainless Steel Bird Spikes from Professional Bird Solution

100% effective, safe, permanent physical barrier

Original Product from Eastern Universe

FREE 1 unit 12g Drill-free Adhesive

Stainless steel won't corrode or decay

Protect surfaces from corrosive droppings

Flexible base for mounting on curved & uneven surfaces

Simple Installation -.Spikes are easy to install with adhesive, nails, screws and tie-downs

Cut down on cleanup and repair costs

Protect buildings, equipment, and vehicles from corrosive bird droppings

Reduce health and liability risks associated with pest bird infestation

Prevent the spread of diseases, such as West Nile, Salmonella and E. Coli

Eliminate fire hazards caused by birds building nests in vents and chimneys

Avoid government and safety inspection failures

Save outdoor grounds from bird damage

Increase property aesthetics

Decrease nuisance for residents, workers, customers, etc.
Specification 
| | |
| --- | --- |
|  WIDTH | 50 cm |
| HEIGHT | 12 cm |
| BASE WIDTH | 2.4 cm |
Related Products