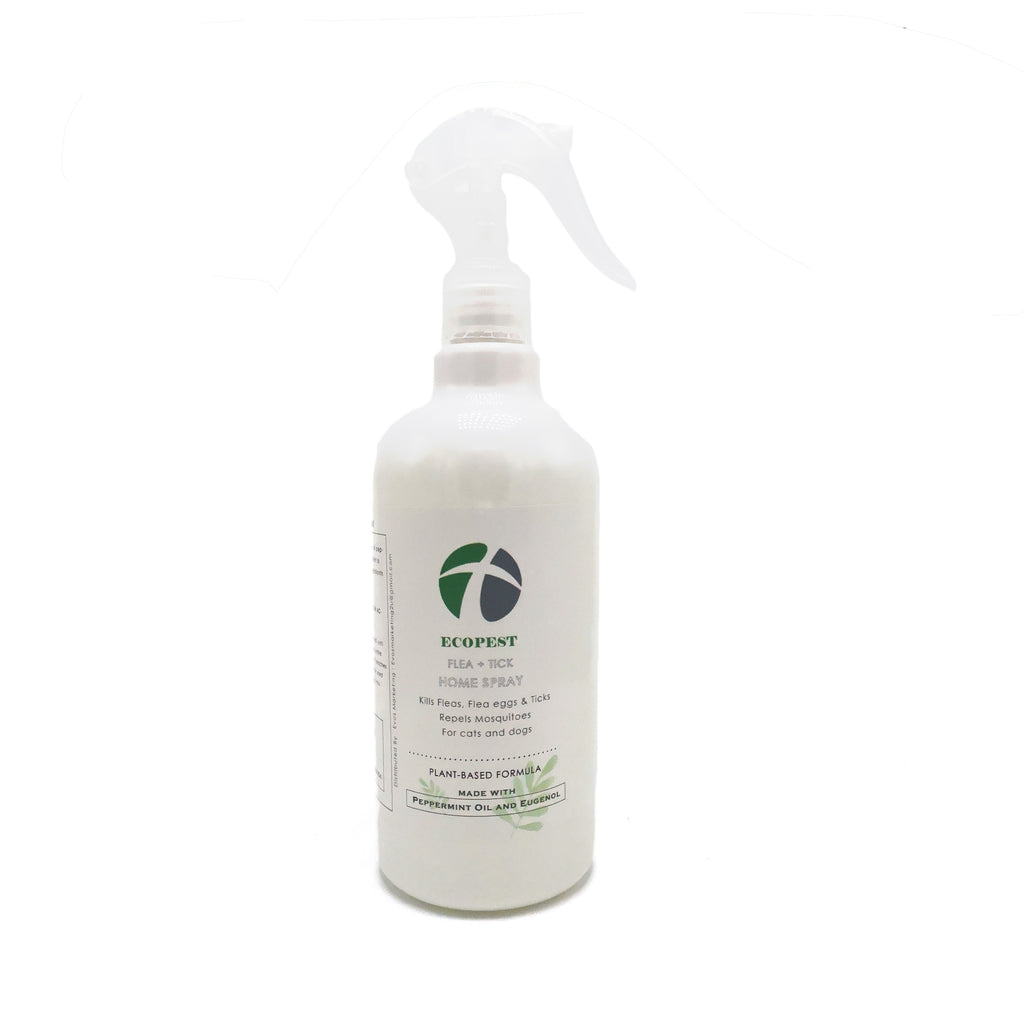 EcoPest Flea & Tick Pet for cats & dogs
RM29.99 MYR RM59.99 MYR
ECOPEST FLEA AND TICK HOME SPRAY kills fleas, flea eggs, and ticks by contact, without harsh chemicals, but rather with certified natural essential oils and plant-based ingredients, such as peppermint oil and eugenol (from clove plants);Not harmful to plants
SAFE TO USE around your dog and the whole family when used as directed. You may even apply it directly on dogs and puppies 12 weeks or older. Our formula also repels mosquitos!
WILL NOT STAIN - Spray indoors and out, in the yard and living room. Use on dog bedding, kennels & crates, pillows, blankets, upholstery, carpets, etc. Gentle on surfaces but proven effective against pests.
100% USA Formula - Natural & Safe, No pyrethrins & cedar oil. 
FRESH NATURAL SCENT - great for use on pets, bedding, pillows, blankets, carpet and rugs.
Product Description
When fleas and ticks have your home and dog under assault, you need an effective solution that will simply work. EcoPest Flea and Tick Home Spray is that solution. Powered by certified natural essential oils, it kills fleas and ticks by contact, but is safe to use around your entire family. The non-staining formula may be used on indoor and outdoor surfaces.
The ECOPEST Best Guarantee
For many years of research, EcoPest has blended plant-based ingredients that work together to comfort and protect your pet.
Certified Natural Essential Oils

Plant-Based Ingredients

Proven Effective Formulas

No Added Fragrance

Non-Staining Formulas
Application:
Use Indoors or Outdoors - Use around the home such as base boards, pet bedding, pillows, blankets, upholstery, carpets, rugs or kennels.
Use Directly on Dogs & Cats -Formula works best when massaged into cat/dog's coat until product reaches the skin. Don't forget secret hiding places like the armpits or in-between the toes!
Treat Home, Dog, Cat & Yard - Our formulas are water-based and designed to be non-staining so you can spray surfaces that your dog & cat comes in contact with to treat an active infestation.
DIrections
For use on dogs or cats over 12 weeks old: Shake well. Lightly spray pet's entire coat until damp, but not dripping. Do not spray in the face, eyes or genitals. Cover the entire coat including the legs, tail and stomach. Massage into the coat until the product reaches the skin. Repeat as necessary. This product is designed to be non-staining. However, always apply a small amount to an inconspicuous area to test for color fastness. Shake well. Spray the surface uniformly with a light mist until moist. Avoid soaking. A fine mist is all that is necessary to be effective.
Net Content: 500ml
Related Products