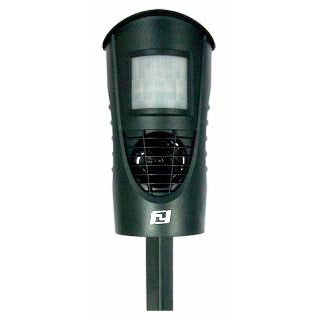 Advanced Animal Repeller - Repel Cats/Dogs
RM109.00 MYR RM199.00 MYR
Product Code: FGA01
* Weatherproof & Outdoor Use!
* Effectively protect your yard against cats, dogs, rabbits, coons, deer and foxes etc.
Features 
---
  Utilizes Triple Scan Infrared Detection Technology 
  High-precision and High Intensity Ultrasonic Technology 
  Specially designed due to the biological feature of animals 
  With speaker indicator 
  With test button 
  Easy to use
  Weatherproof
  Can be mounted to a wall or on the ground 
How Does It Work
---
The Triple Scan Infrared System detects by using 3 separate viewing points instead of the conventional 1-2 window design. As warm body movements are detected, the system turns on and starts to repel. Triple Scan PIR Detection Area Equals: 120 degree arc, up to a distance of 16 meters, approx 188sqm. 
Powerful 10 second ultrasonic bursts will repel the animal away once it enters the area. This will train the animal to avoid the protected area. The Ultrasonic Sound impulses at four frequencies specifically set down due to the biological hearing feature of wild animals.
The Animal repeller will only activate when the sensor is triggered.
The mode settings allow you to set the dB level low at Mode I and high at Mode II. Mode II extends the distance the ultrasonic noise can be heard by wild animals, which makes it ideal for larger gardens or when initially set up in an area with lots of animal activity. Note: Mode II will reduce battery life as it is a more powerful setting.
The Test button allows you to check the device by emitting ultrasonic noise into an audible noise.
Quick Guide
---
1. Install the batteries or use the adaptor.
2. Push the device into the ground with the stake or hang it in the keyhole onto the wall. Make sure the lens is approx 8 inches above the ground.
3. Turn on using the switch on the bottom of the unit.
How long it takes effect? 
---
If the wild animals have a habit of feeding or fouling in your garden, it can take 14-28 days to deliver the full deterrent effect. 'Occasional' visitors will usually be stopped within 7 days.
If you have a dog/cat, it may affect the dog/cat if it's allowed in the same part of the yard. The ultrasonic sound doesn't travel well through walls and fences, so it won't affect a dog/cat in the house.
Of course, as with all methods involving animal behaviour, we can't guarantee effectiveness in every situation, however, our own experience and the feedback we get from customers suggests that this device is effective in almost all situations.
Power Input

---
2 x 9V alkaline batteries, or DC 9V/500mA adaptor. (a
daptor must be plugged in indoors or in a shed)

The use of batteries enables use of the repeller in areas without mains capability. However, where mains power is available and heavy animal activity is anticipated, it is advised to power it with the optional 9V DC Adapter (UK 240V PLUG).
Package included
---
Advanced Animal Repeller - 1 unit
10m extension cable - 1 unit
Power Adaptor (Input 240V, Output 9V 500mA) - 1 unit 
Related Products